Colt 1877 DA Sheriff's Model - 2-1/4" Barrel
w/ Original 1880s Badge & Holster
Deputy Sheriff,

Alameda, Colorado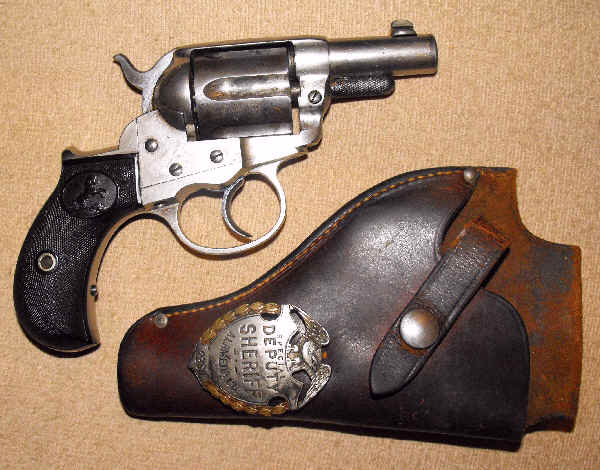 $4,500
This Very Rare Colt Model 1877 Double Action Revolver was manufactured in 1883 in 41 Colt caliber. This caliber designation denotes that it is known as the "Thunderer". (Only the 38 Colt caliber was known as the "Lightning")
An accompanying Colt Factory Letter indicates original shipping configuration was as as ejector-less Sheriff's Model and a barrel length of 3-1/2". It was shipped to Hibbard Spencer & Bartlett, Chicago, Illinois, on July 9, 1883 as part of a shipment of 6 guns. Hibbard, Spencer, & Bartlett was a large catalog house that shipped many guns to the West during the 1800s. Later, this revolver's barrel was shortened even further to 2-1/4" and a Winchester "Silver Blade" Rifle Site was installed. This provided a very compact "Pocket Cannon".
This revolver comes with a Very Rare, Vintage, Original "Special Deputy Sheriff Badge" number 2360 - from Alameda, Colorado. The vintage hallmark on the back of the Badge shows that it was manufactured by "Ed. Jones & Co. - Oakland, Cal." with the designation "G.PL." which stands for "Gold Plated". This badge is dated to the 1880's and is a fitting period accompaniment to the 1883 Revolver.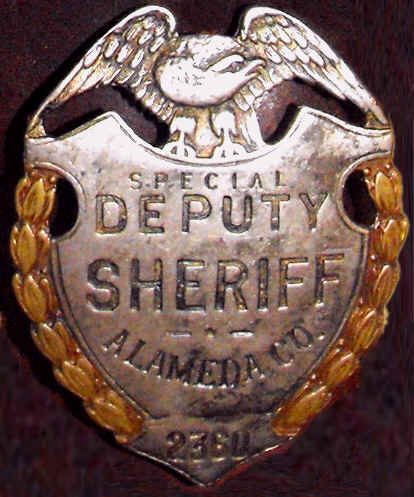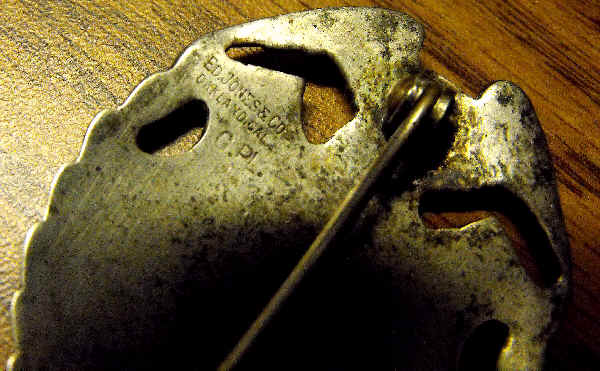 This revolver remains in perfect mechanical condition and functions flawlessly in both double and single action. Nearly 95% Original Factory Nickel remains on the Frame, Triggerguard, Backstrap and Barrel. Cylinder shows 60% Original Nickel turning gray. The Nickel now shows a soft, aged, Milky Patina. The Original hard rubber grips are absolutely MINT showing almost no wear. Grips fit perfectly and are original numbered to the gun.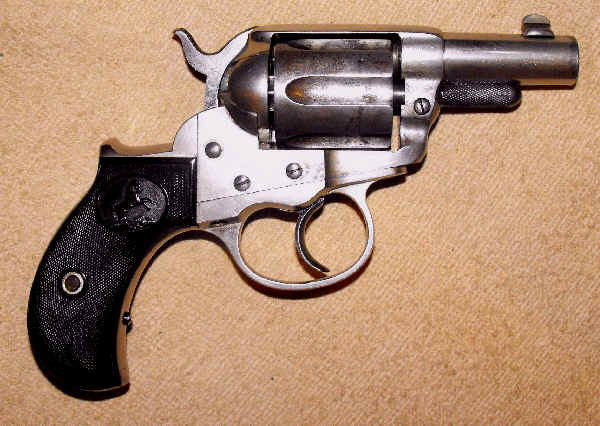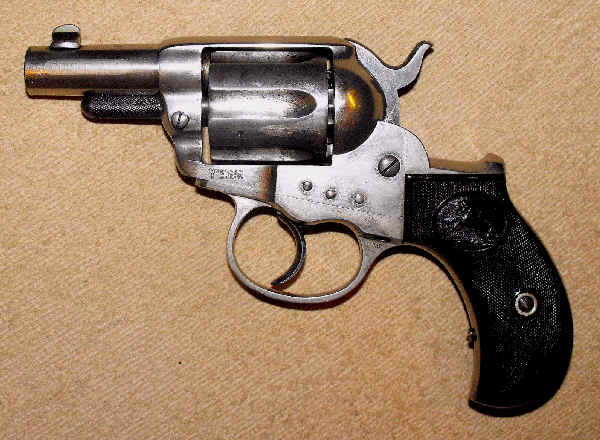 Brilliant "Fire-Blue" remains on the back of the Hammer and Trigger and all of the screws which show sharp undamaged slots.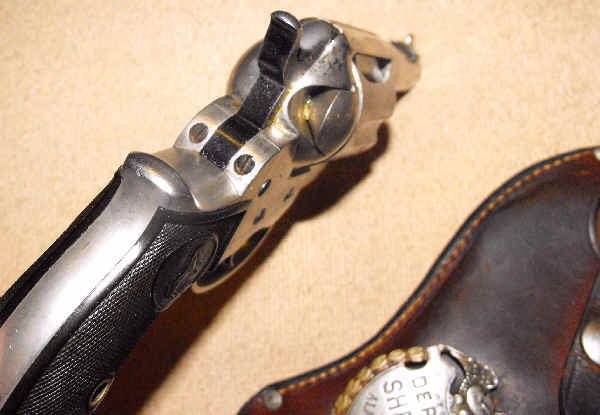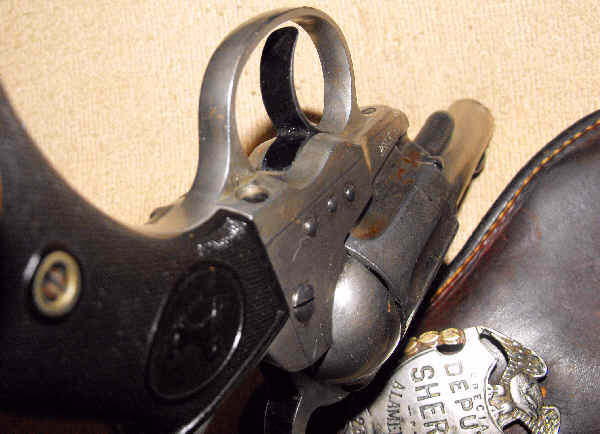 The 100% Pristine "Etched Panel" - "COLT D.A. 41" - appears on the left side of the barrel.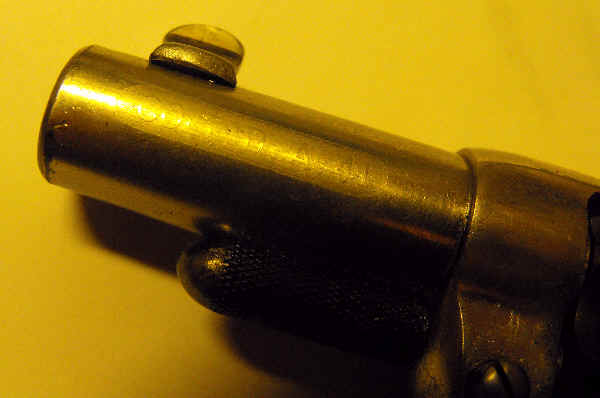 This Vintage Revolver comes with its Original Sheriffs Holster with the Deputy Badge attached to the front.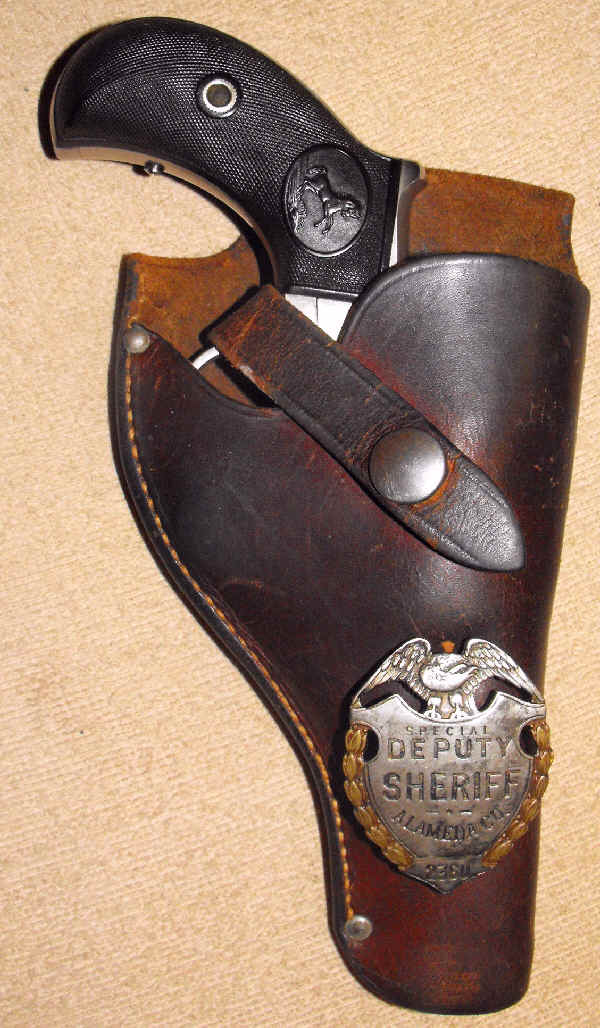 $4,500
Call 920.450.0723 for additional information on this item or.. Email us <click
Copyright 1999-2021, Goodman, Wesson and Associates Oshkosh, WI 54901 7/17